---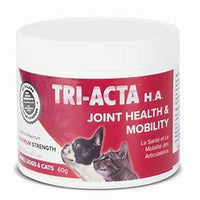 TRI-ACTA H.A. Maximum Strength with Hyaluronic Acid is an effective, easy to give powder that is mixed in your pet's food every day. It can be used for the treatment of age-related soreness, osteoarthritis, hip dysplasia, significant pain and/or immobility, physical injury, or surgery.
TRI-ACTA H.A. is designed to provide maximum protection against deterioration of cartilage while actively working to repair worn out cartilage, reduce pain and inflammation, and improve the viscosity of synovial fluid.
TRI-ACTA H.A. enhances the synthesis of new cartilage, muscle tissue, and ligaments, treating the cartilage matrix at the cellular level allowing the body to heal itself.
THE TRI-ACTA ADVANTAGE!
100% active ingredients – No Filler
Great for Dogs of all sizes and Cats!
All Natural
Therapeutic dosage
Small serving size, resulting in better acceptance among all pets
Economical, low cost per serving
Pharmaceutical grade components
Treats symptoms AND addresses the issue
Health Canada approved Low Risk Veterinary Health Product (LRVHP) designation
DESIGNED TO:
Accelerate formation of cartilage
Eliminate inflammation
Expedite the healing process
Increase joint fluid viscosity
Enhance protective response of joint tissue
Improve mobility and reduce pain
OPTIMAL FOR:
Visible signs of immobility
Injury or concern
Pre-/post-surgery
Active and sporting dogs
Senior animals
BENEFITS:
Joint pain due to an imbalance in normal cartilage production is common and degeneration on joint structures occurs naturally. TRI-ACTA H.A. is an ideal supplement which can be used daily to proactively prevent these conditions, alleviate the pain associated with them, and reverse the destructive process.
TRI-ACTA H.A. has been optimally designed to accelerate the formation of cartilage, minimize inflammation, expedite the healing process, and improve joint condition. The addition of hyaluronic acid leads to improved viscosity of the synovial fluid, providing maximum protection and even greater results.
Each1 gram (1000 mg) serving contains:
Glucosamine
(Glucosamine Sulfate 231 mg, Glucosamine HCL 231 mg)
462 mg
Methylsulfonylmethane (MSM)
443 mg
Chondroitin Sulfate
88 mg
Hyaluronic Acid
7 mg
ALL ACTIVE INGREDIENT – NO FILLER!