---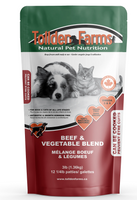 There are many great reasons why a Tollden Farms "Can Be Cooked" meal might be a great option for your pet!
Fresh feeding convenience! Tollden Farms "Can Be Cooked" can be prepared in advance (and refrozen!) for boarding stays, doggie daycare visits, veterinary stays, travelling or even camping! Simply cook as much as you need as directed, allow to cool, and pack in reusable containers or ziploc bags. Can be frozen or kept in the refrigerator for up to 5 days.
Have a picky eater? Some picky eaters appreciate the appealing smell and the warmth of a "Can Be Cooked" meal. This can be more appetizing and enticing to even the pickiest of pets!
Cook from frozen or thawed on med-high heat in a frying pan with a little water or coconut oil for 3-4 minutes per side. Allow to cool slightly before serving. Do not microwave.

Ingredients
80% triple ground beef muscle meat (including hearts); 10 % beef organ meats (liver); 10% vegetables consisting of: romaine lettuce, dandelion leaves, sweet potato, carrot, kale, collards; kelp, cold water, cold pressed fish oil, (18:12), calcium carbonate
Nutritional Analysis
per kg
Moisture 

68%

Protein 

14.2%

Phosphorus 

0.19%

Calcium 

0.33%

Ash 

1.91%

Fat 

14.10%

Fibre 

<1.0%

Calories 

1,689 (kcal/kg)