---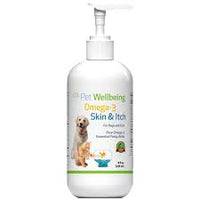 Omega-3 Skin & Itch EFAs from Fish Oil for Healthy Skin and Shiny Coat
Essential fatty acids supplement promoting healthier skin and coat
Provides your pet with an excellent, all-natural source of EFAs (essential fatty acids) they need to maintain healthy skin and shiny coats.
Omega 3 Skin & Itch provides your pet with necessary supplemental amounts of Omega-3 (from fish oils) most times missing, or in insignificant amounts in commercial pet food. Comes with an additional convenient pump. Tested for purity.
What is Pet Skin Irritation?
Skin irritations and disorders are the most common pet ailments. A healthy pet has bright, odorless hair and skin, free of debris, grease and irritation. A pet's skin may be irritated if it has a rash, is dry and/or flaking, greasy, red, or itchy.
The causes can be numerous from food allergies to fleas and ticks and other irritants. If your pet vomits after a meal, this is an indication that he may have a food allergy. Pet owners should pay close attention to the pet's environment such as its bed or sleeping space which should be cleaned or changed frequently.
Omega 3 Skin & Itch is a human grade, high potency DHA and EPA supplement for pets derived from 100% cold water fish caught in the North Atlantic. Anchovies, mackerel, herring and sardines are sustainably caught using dolphin-friendly fishing techniques. The oils are molecularly distilled at a low temperature to preserve the potency. There are no additives or preservatives. The finished product is subject to testing for mercury and other heavy metals and toxins including PCB's and dioxins.
Clinical veterinary research has shown that EPA and DHA available from fish oil provide the necessary nutritional support for excessive shedding, dry skin, constant licking and scratching and dermatitis. These fatty acids are bio-available immediately for a fast improvement in your pet's coat and skin. Omega-3 fatty acids are also used to support joint comfort and mobility, cardiovascular health, a healthy nervous system and brain, and good immunity.
Signs of Skin Problems
Excessive shedding
Dry skin
Hot spots
Excessive paw licking
Greasy and dull coats
Dandruff
Sores in ears
Slow wound healing
How to Administer Omega 3 Skin & Itch
Up to 19 lb: 1 pump
21 to 39 lb: 2 pumps
40 to 59 lb: 3 pumps
60 to 79 lb: 4 pumps
80 to 99 lb: 5 pumps
100+ lb: 6 pumps
If using teaspoon, give 1/2 teaspoon per 25 lb of body weight (1/2 teaspoon for pets under 25 lb).
May be added to pet's food.
Store at room temperature or refrigerate after opening.
Use With Caution
Information presented at PetWellbeing.com is for educational purposes only; statements about products and health conditions have not been evaluated by the Food & Drug Administration.
Omega 3 Skin & Itch is Formulated With:
Cold water fish oil: Wild and sustainably caught mackerel, anchovy, herring and sardine. Dolphin friendly. Tested for purity.
Amount per serving:

Per pump (2 ml)

DHA..... 320 mg

EPA..... 210 mg

Per teaspoon (5 ml):
DHA..... 800 mg
EPA..... 525 mg