---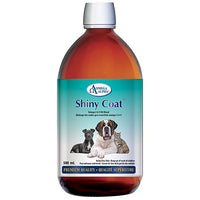 INGREDIENTS PER 1 TEASPOON (5mL):
Omega 3-6-9 Essential Fatty Acids Blend: Fish Oil (from anchovy, mackerel, and sardine), Flax Oil, Sunflower Oil, Borage Oil and Mixed Tocopherols (Vitamine E, d-alpha and gamma tocopherol).
Omega 3 = 1500 mg (EPA 300 mg, DHA 200 mg, ALA 1000 mg)
Omega 6 = 1250 mg
Omega 9 = 850 mg
(All values per 5 ml serving.)
Additional instructions: Never exceed recommended dosage unless in consultation with a licensed veterinarian or animal health professional. Keep opening of bottle away from animal's mouth; do not have animal lick from bottle opening.
Directions by animal body weight:
1-10 lbs | 0.5-4.5 kg………………………..¼ teaspoon (1.25 mL) per day
11-20 lbs | 5 -9.1 kg…………………………..½ teaspoon (2.5 mL) per day
21-50 lbs | 9.5 -22.7 kg………………………….1 teaspoon (5 mL) per day
51-75 lbs | 23.2-34.1 kg………………….1½ teaspoons (7.5 mL) per day
76-100 lbs | 34.5-45.5 kg……………………2 teaspoons (10 mL) per day
>100 lbs | 45.5 kg…………………………… 1 tablespoon (15 mL) per day
1 to 2 times daily, added to meals for best results. For use in cats & dogs only.
Essential fatty acids are indicated for maintaining normal pet health and for skin and coat conditions.
Storage: Refrigerate after opening. Consume within six (6) months after opening. Do not use if security seal is broken.
Allergens: Contains no corn, dairy, gluten, soy, wheat or yeast.