---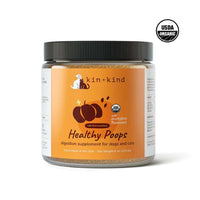 Healthy Poops: A balanced source of soluble and prebiotic fiber, protease, and digestive enzymes support bowel regularity, a strong gut, and healthy digestion.
USDA Organic: Green is good. To protect our pets and our environment, our certified USDA organic products are free from artificial ingredients, preservatives, and chemical processing.
Real Superfoods: Pets love our supplements because they're made with only real superfoods and nothing else. No GMOs and no grains. They taste good and can be easily sprinkled on top of any type of diet.
Vet Formulated: Each and every ingredient is vet chosen and approved to ensure your pets get all the nutrition they need naturally. Certified Leaping Bunny cruelty free.
Made in the USA: Every kin+kind supplement is lovingly mixed, labeled, and shipped by the hands of our employees paid a responsible, living wage in our certified USDA organic facility.
INGREDIENTS
Pumpkin*
Chock full of Vitamin C and high fiber content to support healthy digestion

Flax Seed*
Full of fatty acids that keep the skin moisturized

Coconut*
Provides lauric acid and aid in absorption of fat-soluble vitamins

Chicory Root*
Great source of prebiotic fiber, which strengthen and increases the good bacteria in the gut

Turmeric*
Supports natural joint function and is prized for its high concentrations of curcumin, a critical component of traditional golden paste boosters

Ginger*
Full of B vitamins are essential for brain health and improve systems of stress by lowering blood levels of homocysteine

Banana*
Rich in fiber to support bowel regularity

*Organic pumpkin

Guaranteed Analysis
Crude Protein (min): 12.00%
Crude Fat (min): 25.00%
Crude Fiber (max): 21.00%
Moisture (max): 10.00%
Calcium (min): 8 mg
Magnesium (min): 0.1 %
Iron (min): 0.22 mg
Ainc (min): 0.05 mg
Selenium (min): 0.1 µg
Vitamin A (min): 1116 IU
Pyridoxine / Vitamin B6 (min): 1 µg

Calorie Content
17.5 kcal ME / ½ tbsp
(4487.2 kcal ME / kg)