---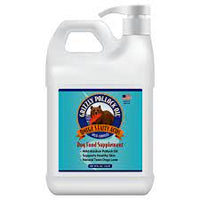 Nourish your precious pup's skin and help give her a beautiful coat with Grizzly Pollock Oil Omega 3 Dog Supplement. This high-quality supplement provides the long chain Omega-3 fatty acids EPA and DHA, which typically have 7 to 10 times higher efficacy fatty acids from flax or other plant sources. EPA and DHA help maintain naturally healthy skin, lustrous coat, healthy joints and a sound cardiovascular system. DHA has also been shown to be beneficial to the nervous system, eyes and fertility. Natural fish oils are the only Omega-3 fatty acids that are readily accessible for your furry friend's metabolism.
Omega-3 fatty acids EPA and DHA support general vitality and can help reduce risk of heart problems, stiffening joints, and loss of vigor.
DHA has also been shown to benefit the nervous system and eyes, as well as your pets' fertility status.
Features a rich flavor dogs and cats love; helps keep their skin healthy, which can also help reduce itching and shedding.
Retains freshness and efficacy for up to 8 months when refrigerated after opening.
Made in the USA and suitable for both cats and dogs of all sizes and life stages.
Ingredients:
Pollock Oil, Tocopherols (preservative).
Guaranteed Analysis:
Crude Fat 99.9% min
Moisture 0.1% max
Omega-3 Fatty Acids 22.0% min
Docosahexaenoic Acid (DHA) 6.0% min
Eicosapentaenoic Acid (EPA) 12.0% min
Omega-6 Fatty Acids 1.5% min
Feeding Instructions:
Add daily to your dog's food according to the weight chart below. For best results, use regularly on a long-term basis.
| Weight | Pump Strokes |
| --- | --- |
| Up to 12 lbs | 1/2 |
| 12 - 25 lbs | 1 |
| 25 - 50 lbs | 2 |
| 50 - 100 lbs | 3 |
| Over 100 lbs | 4 |