---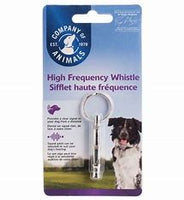 The Company of Animals High Frequency Whistle is lightweight and compact with an adjustable pitch – ideal for dog walking and training.
1. Adjustable pitch
Find the tone that's best suited for your dog by adjusting the pitch on this High Frequency Whistle.

2. Great for long distances
Producing a sound that travels well in open spaces, the High Frequency Whistle is great for distance training and recall.

3. Noise sensitive breeds
The high frequency pitch of this whistle is particularly appropriate for noise-sensitive breeds such as Border Collies.

4. Key ring attachment
For ultimate convenience, the High Frequency Whistle is small enough to attach to your keys or wear on a neck lanyard.