---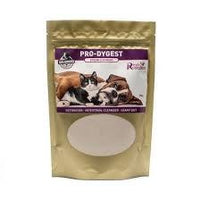 Rivas Remedies Pro Dygest 300g
Pro-Dygest is an herbal blend formulated for dogs with diarrhea, constipation and ulcers. Each component in this blend was chosen for its ability to improve digestive health specifically in the colon. It helps protect the intestinal lining and also helps to prevent the intestines from leaking toxic material into the body. It is a perfect formula for "leaky gut."

Beneficial for:
Diarrhea, Constipation, Ulcers.

Directions:
The recommended daily dosage is based on your dogs weight: Up to 10kg - 1/4 tsp. 10 - 25 kg - 1 tsp. 25 -50 kg - 2 tsp. Over 50 kg - 1 tbsp. Pro-Dygest is a powder and can be added to their meal once a day for 6 - 8 weeks. Mix with soup, broth or gravy. If they are especially picky, start with half the recommended amount and make sure to mix it with something they LOVE!