---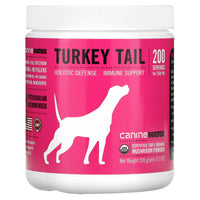 Certified Organic Turkey Tail mushroom supplement for dogs and cats at a reasonable price. Recommended by Vets, Turkey Tail Matrix provides your dog or cat with the unique immune support from this amazing, functional mushroom. Turkey Tail Matrix packs an impressive array of antioxidants that may help reduce oxidative stress. Promotes health and wellness naturally and helps to maintain normal DNA and cellular function. Combine with Canine MRM as desired. Grown & processed in California, our made-in-the-USA Turkey Tail Matrix promotes health and wellness naturally. With no additives, fillers, preservatives or gluten, Turkey Tail Matrix is grown, processed and packaged in the USA under our stringent quality controls. Don't accept anything less than the BEST for your pet! 
Key Benefits
Powerful immune system support to the cellular level. 
Recommended by Vets.
Naturally occurring antioxidants help to maintain normal DNA. 
May be given along with other Canine Matrix products.
100% Certified Organic
Grown, processed and packaged in the USA
Ingredients :

Certified Organic Mushroom Powder Blend: Organic Turkey Tail (Trametes versicolor) mycelial biomass & primordia. Other Ingredients: Organic Myceliated Oats.